12 months ago, the 2013 British Grand Prix made spectacular viewing for all of the wrong reasons. The Pirelli issues first came to light in a number of high speed and very frightening blow-outs, which nearly saw a driver boycott in later races. It was Lewis Hamilton that suffered the first of these incidents, and it took away his lead and all hopes of winning his home Grand Prix for the second time.
What a difference a year makes.
Hamilton's bad luck struck during the race in 2013, but his weekends fortunes reversed come Sunday in 2014.
As intense as the Grand Prix was, there was still a sense of loss from what could have been an epic duel for the win between Hamilton and Rosberg. Lewis Hamilton was definitely doing what was required in the early stages, getting a good start to leap Hulkenberg and Vettel immediately before the lengthy delay. He then made light work of passing both McLaren 's and set about chasing the 5 second gap to Rosberg. This was all despite not completing a race simulation on Friday afternoon, again suffering bad luck and poor reliability early in the weekend. What impressed me most about this phase of the race though was his patience to open out his strategy. Believing at this stage that the harder compound tyres would be slower, he stretched out his stint on the better tyres despite losing time to do so. It takes confidence to do so when the easy choice is to follow Rosberg into the pits a lap later and cash in on his undercut of the fresher tyres.
Would Rosberg have held on to the win without his gearbox issues?
The drivers championship is now at a fantastic stage at the halfway stage. The gap between the Mercedes drivers is back down to 4 points, Rosberg heading to his home race with a narrow advantage but Hamilton having just taken the championship initiative. I just hope it isn't decided by the mechanical issues in the end.
The initial start came to a horrifying end following Kimi Raikkonen's 47g impact along the Wellington straight. The barrier is not padded with tyres here as crashes are rare in this area, and even worse is the 45° angle of it due to the bridge over the circuit. A lot of paddock personalities have already shared their varying opinions about the crash, with Felipe Massa and Niki Lauda claiming he should have backed off more and Martin Brundle giving scant defence suggesting it is the racing drivers instinct to remain committed. I agree with Brundle on this one, since hindsight is a powerful thing when we know about the rain gulley between the runoff area and the circuit. Backing off is the conservative approach, but rarely are racing drivers conservative, especially Kimi Raikkonen. The safety of the cars should once again be heralded though, again withstanding extraordinary forces and retaining all of the wheels, allowing Raikkonen to get away with just bruised ankles.
Raikkonen's car was left in a state, but stands testament to the supreme safety of modern day Formula 1 machinery.
An unfortunate victim of Raikkonen's crash was Felipe Massa, who found himself behind the Ferrari's immediately having bogged down at the standing start. Questions were asked of Williams race strategy in Austria, with some believing they should have chased Mercedes harder for the win rather than settling for 3rd and 4th. It was strategy again that caught them out in Britain, getting the decision wrong early in qualifying. It made for a brilliant race however, as we saw Valtteri Bottas lead the charge and pass almost the entire field to finish a comfortable second. It was a fantastic performance following the disappointment in qualifying, and again we are left to ponder whether a higher grid slot would have given Lewis Hamilton more to think about to claim the win. Fernando Alonso likewise charged through the pack, benefiting from the red flag to change onto fresh tyres, and were both in the top 5 positions by just lap 15.
Bottas made light work of the field, becoming the highest runner after the Mercedes pair by just lap 16.
Red Bull in contrast expected so much more from a circuit that rewards aerodynamic efficiency. Adrian Newey's designs always seem perfectly suited to the Maggotts and Becketts sweeps, and were expected to give Mercedes some much needed competition at the front of the field. After the red flag they opted to roll the dice and place both drivers on the hard tyres, which in hindsight should have been a great decision. Once the genie was out of the bottle following Hamilton's move onto them, most teams switched strategy to make use of the improved hard tyre performance. Red Bull had already pulled the trigger though, ditching those harder compounds after only 9 (Vettel) and 14 (Ricciardo) laps following the restart. Ricciardo was therefore forced to stretch out 37 laps from his mediums to stay on a 1 stop strategy, resulting in a close finish with Jenson Button who would have almost certainly passed if he had 1 more lap to do so. Vettel was never going to get 42 laps from his tyres after pitting even sooner, and so had to make the slower 2 stop strategy work from there.
Daniel Ricciardo denied Jenson Button his first ever podium on home soil, but only just.
The pinnacle of the race had to be the battle between Sebastian Vettel and Fernando Alonso over 5th position. It wasn't the greatest weekend for either, but that never matters in the heat of the battle and it was a thrilling encounter. It was sullied slightly by the constant complaints over track limits, but that is the beast that has arisen following the FIA's new off track policy. It is a good policy, especially in qualifying, but it needs to be punished almost as ruthlessly in the race as it is in qualifying. Sure, you can't delete laps - but it would be easy to hand out the new 5 second penalties once a certain number have been accrued. I guess that the worry would then be drivers seeing it as a select number of "bonus" corners. Take for instance Vettel arriving at the gearbox of Alonso having not strayed from the track all race. The very first time they go through Club or Copse corner (where we saw the time being gained) he could run clean off the circuit to give himself the speed advantage to pass, and not receive a penalty because he hasn't gone off enough times. There is certainly a grey area to be discussed if we saw more battles settled over the radio and in Charlie Whiting's office...
Both Alonso and Vettel laughed off the question about the radio chatter after the race, claiming it to be "heat of the moment" strike and counterstrike.
As for the rest of the teams, McLaren enjoyed a weekend where everything went to plan but are still lacking ultimate race pace. There were definitely signs of improvement, but given the compromised races of the Red Bull drivers, Alonso and Bottas, they will be pondering as to why they ended up amongst them at the end. The last Mercedes running team, Force India, are slipping even further behind having capitalized on the final runs in Q3 but falling into the clutches of the Toro Rosso drivers by race end. Hulkenberg complained race long of thermal degradation in his Pirelli tyres, whether the medium or the hard compound, whilst Perez's race was ruined by turn 1 when he got spun around by Jean-Eric Vergne. The Toro Rosso team have scored consistently so far, having netted some impressive scalps in qualifying trim. Their quest for pace however still seems them with time to find, and will hope to race with the likes of Force India soon if they continue to struggle.
Hulkenberg struggled to keep his tyres within their working temperature range.
Lotus had a miserable home Grand Prix, suffering yet more reliability issues and a general lack of pace that saw them racing amongst the Saubers, themselves also still unable to conquer their brake-by-wire troubles. Adrian Sutil has proven himself a capable and reliable driver within Formula 1, but is being made to look amateur by erratic braking performance pitching him into gravel traps when things start to look up as they were in Q3. Sutil finished where he started in 13th, 16 seconds behind Grosjean's Lotus but equally just 15 seconds ahead of Bianchi's Marussia. As for their team mates however, Gutierrez survived the opening carnage only to cause his own when he pitched Maldonado almost into a roll. Initially I felt that Maldonado had turned across him early, but the move was never on for Gutierrez who almost failed to slow down for the turn at all. Maldonado did well to carry on with a car that had certain damage to it caused by such a launch and landing. Cynical viewers may think it was deserved however for his similar move on Gutierrez in Bahrain, but it should never be tolerated and Gutierrez will be demoted 3 grid slots in Germany - a light penalty to me given some of the others handed out already this year.
The Saubers chasing down Jules Bianchi early in the race, with the Lotus drivers on their tails.
Marussia made the most of the mixed weather on Saturday to achieve their best grid position, and were unfortunate that Max Chilton had to take a grid penalty for a change of gearbox. Nevertheless it was a great display from Jules Bianchi in the race, holding his own against the nearest challengers and not having been beaten by a wide margin. Chilton was very lucky in the aftermath of Kimi Raikkonen's crash, as a tyre carcass flew across the circuit, made a mess of the front of his Marussia and came so very close to hitting his helmet. A very lucky guy indeed following the awful scenes for Felipe Massa in Hungary 5 years ago. Marussia seem to finally making headway in their battle to join those midfield teams, leaving Caterham fighting themselves and potentially the new teams in 2015. It is unsurprising therefore to see them sold off by Tony Fernandes to a consortium lead by Colin Kolles, known for his time at the Midland and HRT teams. Ex F1 driver Christijan Albers will take over running of the team. They will hope that some fresh ideas can inject new found drive within the team and claw back the difference to the Marussia team and those ahead of them.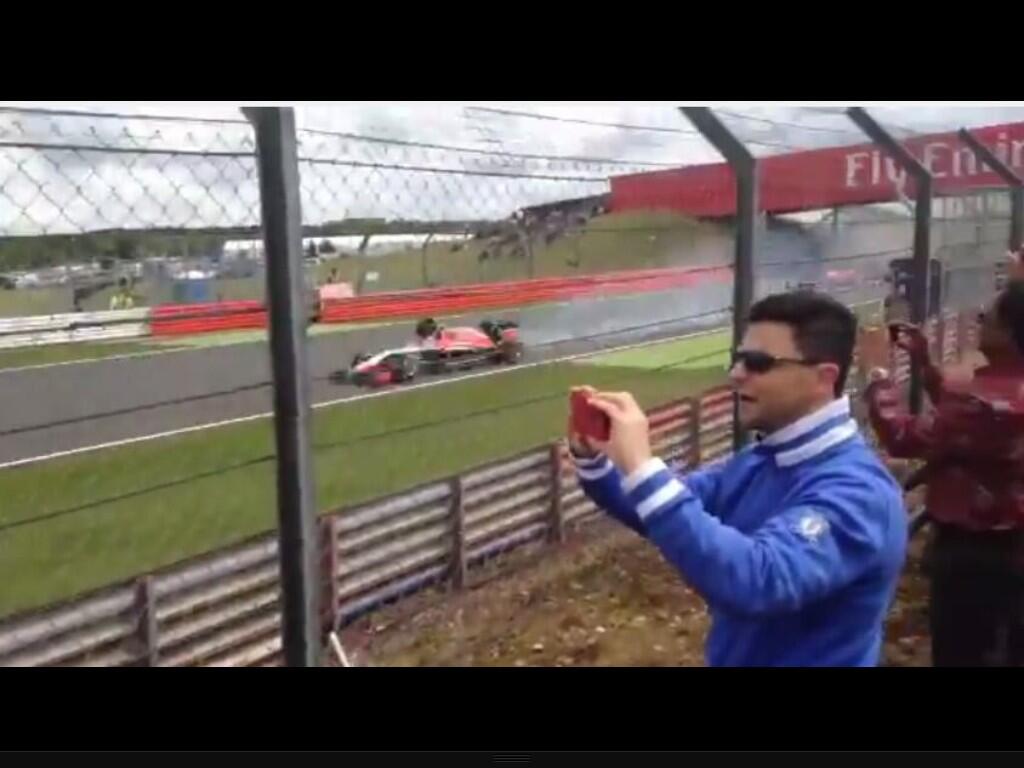 This photograph taken trackside really highlights just how close to Max Chilton's head the tyre carcass, a very worrying sight within Formula 1. Will the discussion over closed cockpits return?